If you need to build a brand new website, or transform an existing one, we can design & develop a website that will proudly represent your organization.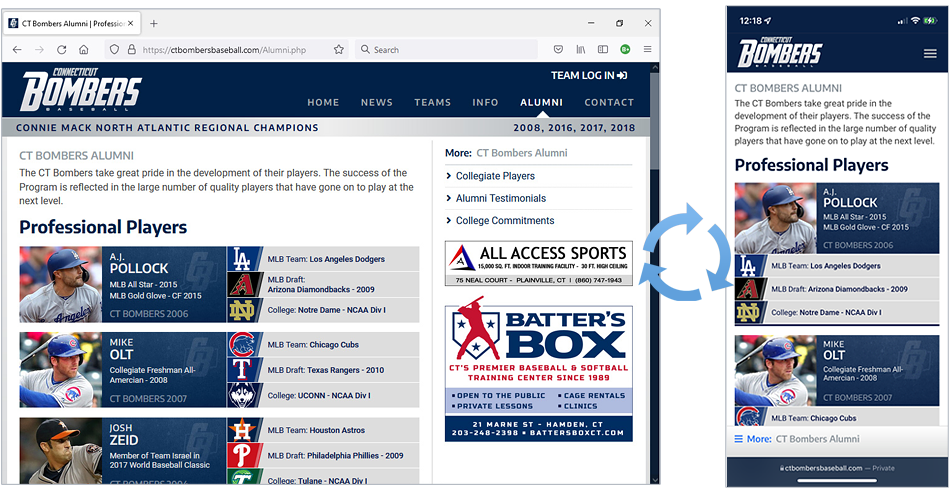 Responsive Website Design - it's more than just looking good...
From large screen monitors to a 3-inch phone screen, it's vital that a website works and reads well regardless of how it's being viewed. A Responsive Website Design means your website will respond to the size of the screen by changing it's layout to accommodate the device.
We provide WordPress® and other responsive, template-based web solutions. However, many of these template-based layouts are hardly designed with a laptop user in mind. Huge graphics, single-column content and what feels like endless scrolling are the hallmarks of these templates. While mobile devices are convenient and used most often, most people prefer to browse and perform tasks (like shopping) on a larger screen. All of our websites, from custom designs to pre-fab templates, are Fully Responsive to provide a premium experience to viewers on all devices.
We can customize your website to provide what you need.
Popular template software like WordPress®, Joomla® or Drupal® are all built in a scripting language called PHP, and we are PHP experts. Many web developers have knowledge of these software programs and provide websites that are limited to what these programs offer "in the box". Our knowledge of the framework used to create these programs allows us to customize the code and produce the functionality your website needs with few, if any, limitations. We have even built customized, client-managed websites from scratch, without the use of 3rd party software.
Contact us today for a free consultation.
With every one of our clients - we take the time to meet with them, learn about their organization, and identify their goals for an online presence. We then offer solutions to achieve those goals with cost options and the possibility of future expansion. Click here to contact us via email, or call us at: (203) 444-1278. If we don't answer, please leave a VM and we will call you back asap.